Since its founding in 1920, the Milan based ZUCCHI GROUP has been a worldwide leader in home fashion as well as textiles manufacturing. With their trend-setting designs and technologically advanced manufacturing processes, ZUCCHI and its made-in-Italy products have also developed a strong following in the South-east Asian region.
For more information, please visit their website at:http://www.zucchi.it/en
Please click here for our locations
---
ZUCCHI COLLECTION
The most luxurious offering of all the brands under the Zucchi group, Zucchi Collection has been a staple in our repertoire of bed linen items for over 15 years. With new designs released every fashion season, Zucchi Collection linens are luxurious to the very last thread.
---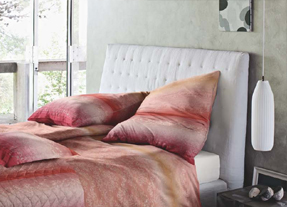 ADVANCED PRINTING TECHNIQUES
As a leader in printing technology, Zucchi is constantly pushing the boundaries of its printed design. In Spring/Summer 2013, the Zucchi Collection featured the addition of a new cutting edge pearlescent pigment that renders the luxuriant finish of printed reactive sateen iridescent, with a shimmering that is reminiscent of mother of pearl.